Friday, November 18, 2022
Unfortunately, there are far too many "businesses" in the marketing industry that use fear and misleading tactics to get the attention of small business owners. They are willing to do whatever it takes to sell their services and some of their tactics are downright evil. Auto repair shops are among the businesses they target.
We hear from clients all the time about an email they received with a warning that scared them into action. Here's what to look out for and how you can investigate these claims yourself.
"Renew your website domain immediately!"
The bad actors who are doing this are the worst offenders. They try to scare you into thinking your website will be going down very soon if you don't pay them to renew your domain.
Yes, domain renewal is very important. If you don't actively renew your domain, your website will go down. You could even lose your domain in an auction fairly quickly. However, in almost all cases the companies that are sending you these notices don't hold your domain. They may be able to renew it for you, but they are going to charge you a significantly higher fee to do so than you truly need to pay.
What to do
Contact your current website provider to ask about the renewal date of your domain. If they don't manage your domain for you they should still be able to tell you who does host your domain and help you check on it.
If you manage your own website, you want to be sure that you keep track of who you originally selected as your domain host. You also want to be sure that you have your login information for that account. If it's too late for that, reach out to the platform you are using for your website to see if they can help you identify who you have registered your domain with.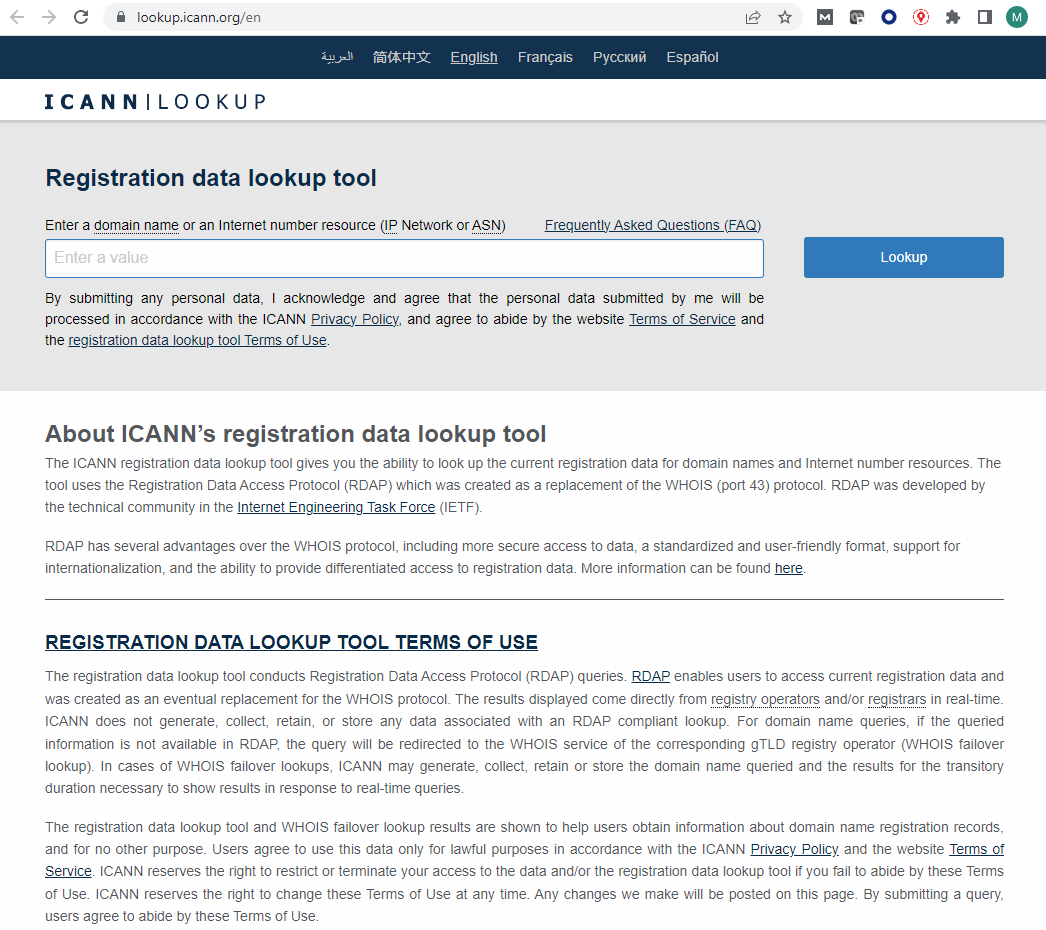 You can also go to https://lookup.icann.org/en/lookup. Under Domain Information and then Dates, you should be able to see when your domain registration expires. You may also be able to get the contact information for the hosting company there.
Once you've got this information be sure to store it somewhere you will remember so that you have it in a safe and memorable place when you need it in the future.
"There are errors on your website!"
As a company that builds and manages websites for auto repair shops, this is one of the most irritating tactics. Very rarely are there actual "errors" – misspellings, incorrect information, bad links, etc.
Instead, after saying they found errors the follow up by these misleading entities usually takes one of two approaches neither of which are actually highlighting "errors":
1. They highlight a bunch of things that are truly not affecting the website's ability to search well and draw in customers
2. They hold your website to a standard that can only be met by the biggest brands
Before mentioning the specific issues with both of these approaches, it's important to say that what matters most when it comes to how your website performs is results. For almost all small businesses, the main job of your website is to get you found when somebody searches for the services you provide in your area. There are other things that can be important like branding/reputation and conversions, but ultimately you want your website to show up toward the top of the organic search results.
If your website is showing up toward the top of the organic search results for the auto repair services you provide in your area, then there are no significant SEO or content issues or errors on your website. Case closed.
It's also important to know that there are very few "perfect" websites. It is really easy for a marketing agency to nitpick and point out things that they consider wrong. And the worst of them will do that without any regard for the search results the website is producing.
Now let's dig into the two approaches that I mentioned that are usually taken in these misleading efforts.
The deceiver will highlight a bunch of things that are truly not affecting the website's ability to search well and draw in customers.
Some of the favorite focus areas here are load speed, citations or listings, and AMP.
Is load speed important? Yes, it is. Load speed is a known factor that Google uses in the search algorithm. However, some predatory marketing or SEO agencies would have you believe that load speed is the number one factor in search. That is not proving to be true at all.
As far as citations, also known as listings, there are only a handful of these that are still relevant. Chances are good that you are probably already focused on them. They are Google, Facebook, Yelp, Bing and Yahoo. Why would Google care what City Search says about your business? Google owns search. Nobody has used City Search to find a local business in at least 10 years.
AMP is just not relevant to auto repair shops.
What to do
First, check your search results. If you are showing up on the first page of the search results for auto repair, car repair and other keywords related to your most important services, then disregard any of these false claims.
If you are not seeing the search results you would like to see, load speed could be an issue. However, there are several factors that could be impacting your results. Load speed may not be affecting your website at all. Reach out to your website provider to ask them to investigate your search results and ask if load speed could be affecting them negatively.
When it comes to citations and listings, make sure your business information is accurate on Google, Facebook, Yelp, Bing and Yahoo. You should also check industry sources that you currently have profiles on. That may include any groups or associations of which you are a member. Don't worry about any other listings.
Manipulating marketing companies will hold your website to a standard that can only be met by the biggest brands.
Usually the biggest "errors" they highlight here are backlinks (links from other websites going to your website) and social media.
We recently looked at a report that was sent to one of our clients that gave them an F for Links and an F for Social Media. The F for links highlighted that they had 365 external backlinks. That's actually a pretty good number for an auto repair shop! It is just plain deceptive to give them an F for that and shows no recognition of the true competition for the business. They are not competing with the world, they are competing in their local market.
They received the F for Social Media because they only had a Facebook page and didn't have Twitter, Instagram or LinkedIn profiles, or a YouTube channel. If you can consistently use those social media channels for your auto repair shop then that is great. If you don't have the time, you are going to get a much bigger benefit from putting the time you do have into one channel and not spreading yourself too thin by trying to use everything. As for social media's impact on SEO, it's believed by experts to be minimal at best.
What to do
Backlinks are important. If you haven't already done so, work to get links to your website from local organizations and businesses in your area. Chambers of commerce, non-profit organizations you support and businesses that you can partner with are all good potential sources for links. Just ask them if they'd be willing to put a link to your website up on their website.
As far as social media, first determine how much time or money you have to spend on it. Social media can be a very valuable way to connect with customers and remind them that you are there to help them with all their auto repair and maintenance needs. But it can also be a huge time suck if you are not disciplined about your time or if you're not sure what to do. Don't overextend your efforts. You will likely see the best bang for your buck by focusing on Facebook, Instagram and Nextdoor (if you count that as social media and they have it in your area).
"Nobody can find your shop on the web!"
Usually the evil companies trying to exploit you using this lie will say that they didn't find you in the Local Pack.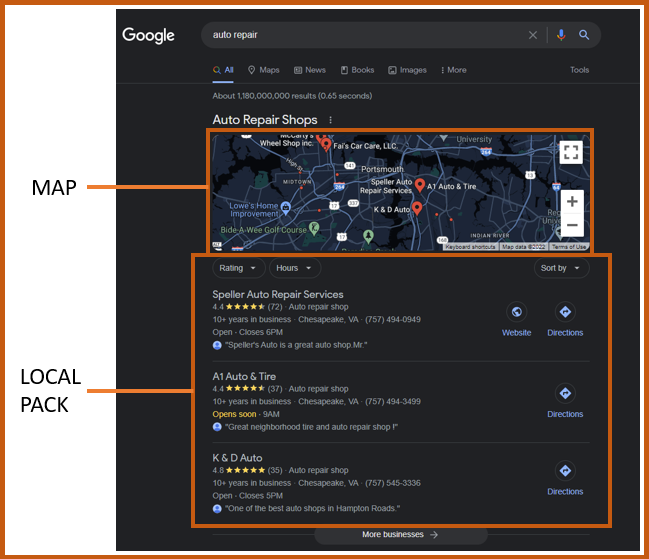 The Local Pack is the box that includes three or four businesses that shows up high on Google's search engine results page right next to the map. There are several things that are deceptive about this approach:
1. The Local Pack results are significantly weighted by location. The people perpetrating this lie just search for something like "auto repair Cleveland" from wherever they sit and then use those results to scare you. These are not the same results that a consumer who was actually in Cleveland searching for an auto repair shop would see.
2. Somebody looking for an auto repair shop is likely to click on the "More businesses" button at the bottom of the Local Pack to see the full list of options. They'll want to see more options so they can see their Google review rating and other factors.
3. Probably most important – the majority of searchers click on the organic search results that show up below the Local Pack. The Local Pack is still important because around 1 in 3 consumers looking for local services will click there. But 1 in 2 consumers will click on the organic search results. If your website is showing up in the organic search results, that is what is most important.
What to do
Check for yourself. Search for "auto repair" in a few places around town. Are you showing up in the Local Pack? When you click on "More businesses" do you show up in the top 10? Is your website showing up in the organic search results?
If you don't see your shop anywhere in the results, reach out to your website provider and ask them to take a look at how you are doing in local and organic search. If you manage your own website, ask somebody you trust in your network that knows a thing or two about websites if they can find your website and what they might suggest to help you search well if they can't.
The Good News
I promise you, not all marketing firms are manipulative, self-interested jerks that only care about taking your money. There are several who do want to help you and your shop grow and prosper.
Please feel free to reach out to me If you have questions about anything I covered here at martin.morgan@repairshopwebsites.com or 919-600-5166. I love to help small businesses and I hate to see business owners get taken advantage of by deceptive practices.