Should I Respond to My Auto Parts Store Google Reviews?
April 3, 2020
Yes, you definitely should. But there's more to it than just posting a quick response.
You'll want to respond appropriately to the type of review you received. We'll break them down into three different groups – good reviews, bad reviews and false reviews.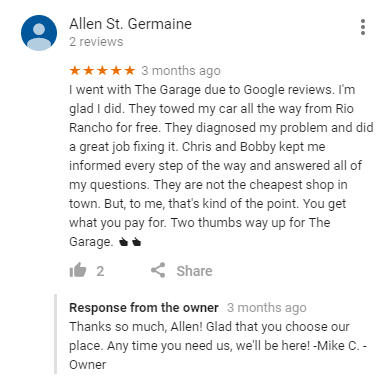 Responding To Good Reviews
As you probably already know, good reviews are the easiest types of reviews to respond to and by going a step or two beyond just saying thanks, you can help your auto parts store in ways you may not even realize. If you can, an excellent way to do this is to mention something personal about the customer who left the review and to reference the parts or service that you provided for them.
But first, you should respond by thanking them for taking the time to post the review for your store. Time is precious, so it's important to show appreciation to a customer who is willing to use their time to help your auto parts store.
Second, if you are able to include something personal about the customer or the shop, it helps you demonstrate that you really care about them as a customer. This helps keep the relationship with the customer strong and also serves as a clear indication to potential customers who will be looking at the reviews that you truly care about your customers.
Finally, including something about the parts you sold to them or the service you provided will help your SEO (Search Engine Optimization). This helps to increase your chances of appearing in the Local Pack (the list of 3-4 businesses that shows up just below the map in a Google search results page) when somebody searches for those parts or that service in your area. It will also help your website search better for those parts and services, as long as it is linked to your Google My Business profile.
Responding To Bad Reviews
One of the most difficult things to do is to keep your cool and respond reasonably when somebody blasts your auto parts store in a review, especially if you feel strongly that they are wrong. Your instinct will likely be to tear into them in the response. But it is critically important to remember that potential customers who read the review will have no way of knowing who is right and who is wrong. If you quickly hit send on that non-professional response, potential customers will believe that you are not professional. As unfair as that may be, that's the way it works.
Your best move is to respond respectfully, typing out something like "we are sorry you feel that way about your visit to our store." It's also helpful to include a line that states that you work to provide excellent customer service – "we strive to provide the best service in town to all our customers." And to follow that up with "I'd be happy to talk to you personally about your experience."
If you know that something went wrong during the interaction with the customer, it's a good idea to be straightforward and more apologetic. Almost all customers understand that nobody gets it right all of the time. And, potential customers reading the review and seeing your response will respect your accountability and be more likely to choose your store if they see that type of response.
If you state in your response that "our goal is 100% customer satisfaction. Unfortunately we missed the mark with you. I'd really appreciate the chance to talk to you and discuss how we can make it right." It can go a long way toward demonstrating your care for your customers in the face of a mistake.
Responding To False Reviews
Every once in a while we'll see a review get posted for one of our customers that is either mistaken or blatantly false. An example would be if somebody writes that they visited your auto parts store on a Sunday, but you are not open on Sundays.
If this happens to you, it is totally appropriate to point out that they must be mistaken. Posting a response that includes "we are sorry you had a bad experience, but it could not have been with our store. We haven't been open on Sunday in 20 years," is a good way to address it. It is also totally appropriate to ask them to remove the review because of the mistake. Feel free to encourage them to stop by your store for a much better customer experience.
Like with most things, you probably want to avoid hard and fast rules when it comes to responding to reviews for your auto parts store. But, if you use these recommendations as a guide, and always keep in mind that it will not just be the person who wrote the review that reads your response, but many potential customers, you can further leverage Google reviews as a way to help you gain more customers.
You may also want to read: Should I Ask Customers to Post Reviews for My Auto Parts Store?
If you'd like help getting more reviews, please contact us at 866-665-1605 or Team_RSW@RepairShopWebsites.com.