Repair Shop Customers Prefer Texting – Are You Offering It?
March 2, 2018
One way your repair shop can improve both customer satisfaction and technician productivity is by communicating with your customers via text.  It's surprising just how much people prefer texts to phone calls. According to Forbes magazine, every demographic now spends five times longer texting than they do on voice calls.  That includes both millennials and older customers.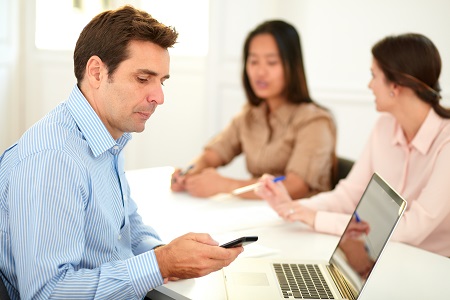 Texting has become popular for a number of reasons, but one of the biggest reasons is that returning a text interrupts tasks for seconds instead of minutes.  A text can also be returned discreetly – many of your customers aren't able to interrupt a meeting to answer your phone call, but they can easily review a text from your shop and respond while the meeting is ongoing.  Customers can also respond in noisy environments, when answering the phone would be impossible.
Because customers are able to answer more quickly, your shop will become more productive when it uses texting for customer approvals and other service-related communication.  Vehicles will stay on lifts for less time.  Parts will be ordered earlier in the day, potentially turning a 'tomorrow' repair into a 'today' repair.  Not only will this allow you to handle more cars per day, it will also allow customers to get their vehicles back more quickly, increasing their satisfaction with your speed of service.
Texts are more efficient than phone calls for shop employees, too.  Service writers and technicians can send texts quickly, without having to wait to leave voicemails.  And when customers do respond to texts, they won't reach a busy signal or be asked to hold while the shop employee finishes a conversation with another employee.
Give texting a try, and see how it benefits your shop!  Your customers will be glad you did.  If you'd prefer to communicate via a business-owned device rather than employee cell phones (and there are many reasons for doing so) give us a call and ask about how our Service Texter application can make texting communication with customers both easier and more efficient.
Give us a call at 866-665-1605 or email us at Team_RSW@RepairShopWebsites.com to learn more about our Service Texter application!