Instagram Is Now a Necessity for Auto Repair Shops
January 24, 2023
If your auto repair shop is not on Instagram yet, now is the time. Instagram is making it easier for its users to find local businesses. In addition, a Google exec was recently quoted about how often young people use Instagram to find local businesses.
Last year Instagram updated their map functionality so that local businesses could be discovered. Before that only posts that were tagged with a nearby location could be found. Now, your official Instagram account can be found on the map. That is of course, if you have an Instagram account.
Do Auto Repair Shops Need to Be on Instagram?
I know what you might be thinking – "I don't need one more online account to have to manage!" Yes, you've got your Google Business Profile, Facebook, maybe Yelp and maybe others. But here's one reason why Instagram is important – a Google executive last year said "In our studies, something like almost 40% of young people, when they're looking for a place for lunch, they don't go to Google Maps or Search. They go to TikTok or Instagram."
I realize that auto repair shops are not the same as restaurants. But if "young people" are using Instagram to find restaurants they'll be using it to find auto repair shops soon enough if they aren't already.
Also – if "young people" are using Instagram in this way, not-so-young people will probably be doing so soon. And, if this age group just starts getting used to searching for local businesses using Instagram they will likely continue to do so as they age.
Instagram User Statistics
You can find all sorts of statistics about who uses Instagram and how often, but I will rely on the Pew Research Center because I know they are as trustworthy as they come. Their most recent United States social media survey is a little dated being two years old (https://www.pewresearch.org/fact-tank/2021/10/07/7-facts-about-americans-and-instagram/) but here's some data from that survey:
• 40% of Americans say the use Instagram
• 71% of those ages 18-29 use Instagram
• 48% of those ages 30-49 use Instagram
• 47% of those with incomes of $75k+ use Instagram
• Of those who use Instagram, 59% use it at least once a day with 38% saying they use it several times a day
If your target audience is included in the user statistics above, the case for utilizing Instagram is even more clear. If you are in a college town then this is impacting you now. If you are in any other market where your customer base includes 18-29 year olds this is impacting you now.
How Do I Capture Instagram Users Searching for Auto Repair?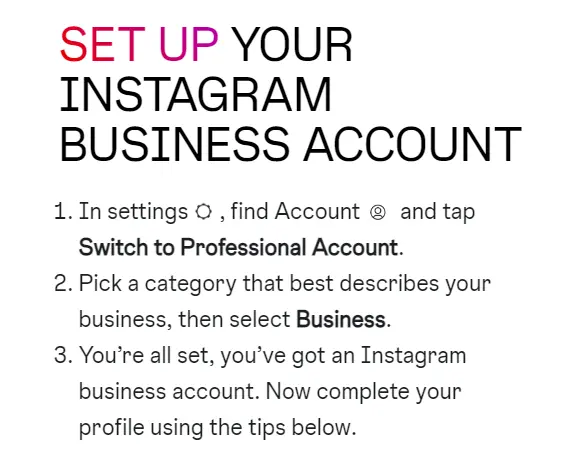 If you are already using Instagram
Switch to a professional account if you haven't already. Make sure to fully complete your profile.
If you do not have an Instagram account
You can go to this web page – https://business.instagram.com/getting-started – and create a business account. About halfway down the page you'll see the text from the image above. Just to the right of that text is a walkthrough video that takes you through the steps. Complete your profile and post some of your best photos, if you have some to post.
The good news is that setting up an Instagram business account just takes a little bit of time and is free. Plus you'll be giving yourself an opportunity to bring in more customers. You have nothing to lose.
If you really want to leverage Instagram to engage your potential customer base, you can start posting. But if you don't, at least you've done the minimum to make sure you are findable for those who use Instagram to search for auto repair services in your area.
Would you like help building out your Instagram profile and engaging your audience on Instagram? We can help you with our Social + package. Give us a call today at 855-294-6397 or schedule a meeting with us at a time that's convenient for you!