If you need further proof that online reviews are important, especially on Google, here's the latest from the fantastic Local Consumer Review Survey 2022 by brightlocal:
98% of consumers read online reviews for local businesses
77% "always" or "regularly" read them when browsing local businesses
81% of consumers use Google to evaluate local businesses
81% said that reviews play a "Very important" or "Important" role in their decision to choose Automotive Services
We recently conducted a survey of auto repair shops to see how often they are asking for reviews. Here's what we found out.
How often do you ask happy customers to give your auto repair shop a Google Review face to face right after the service?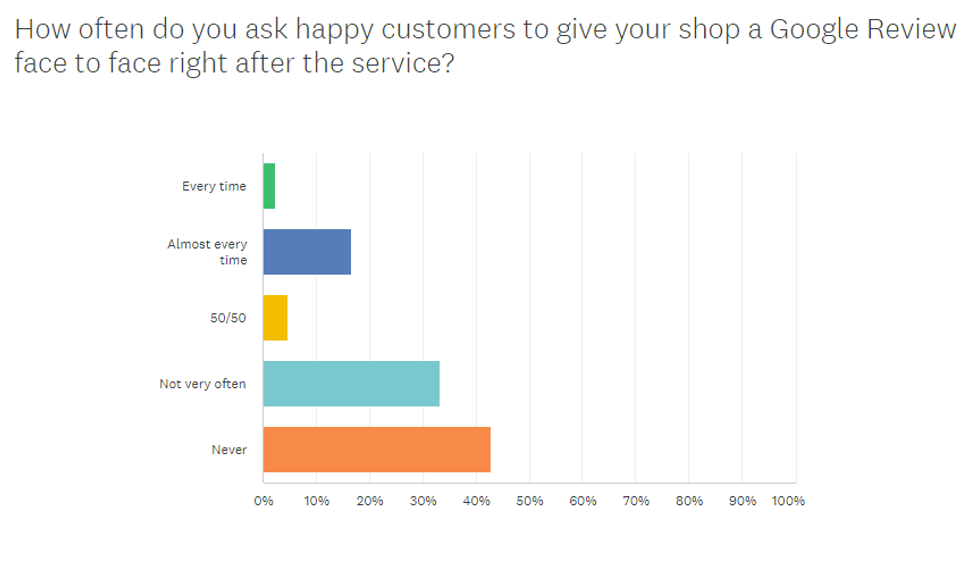 Only 19% of shops are asking happy customers to provide reviews face to face right after the service. Nearly 5% are doing it about 50% of the time. More than 76% of shops are "Never" or "Not very often" asking for reviews. In short, the vast majority of shops are not asking happy customers for a review immediately after the service is performed.
How often do you call, email or text happy customers after they've left your shop to ask for a Google Review?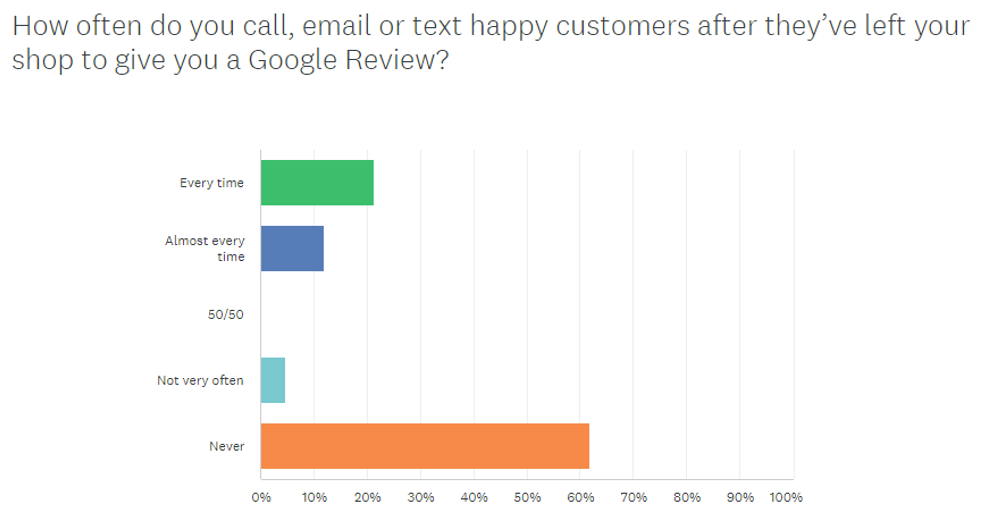 The good news is that more shops are asking for reviews via phone, email or text after a happy customer has left the shop. More than 33% said they do it "Every time" or "Almost every time." However, there is still a large number – 62% – who "Never" ask for reviews in this way.
So, here's the first opportunity. If you are already asking for reviews – great job! You likely already have a nice advantage over your competitors. If you are not, now is the time to start. You can still put your shop in a good position to be chosen by consumers by starting to get a regular flow of reviews now.
The even bigger opportunity is tied to the third question we asked:
When you ask for reviews, how often do you ask the customer to include the services you provided in the review?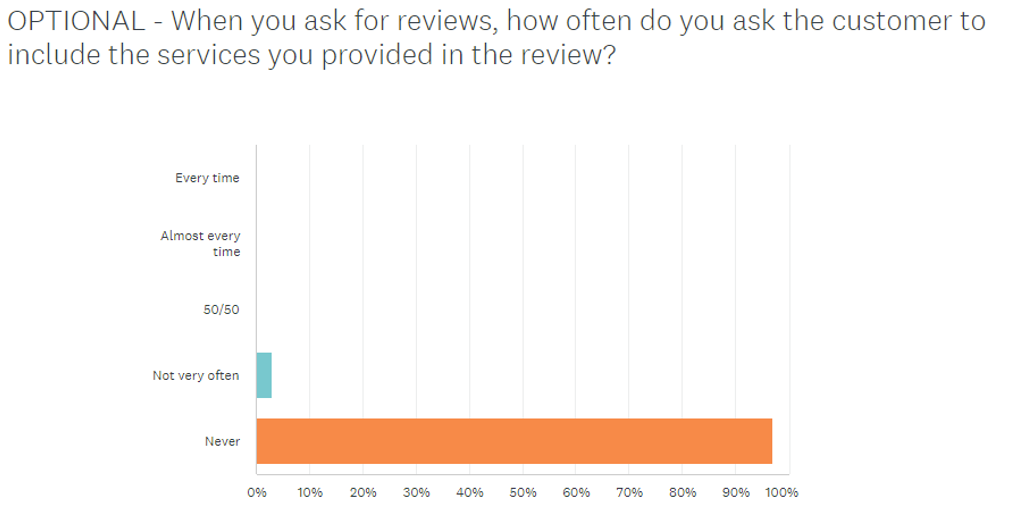 Not a single shop we asked this question to chose "Every time," "Almost every time" or "50/50." An astounding 97% of the shops said "Never."
Why is this important? Because consumers like to see their situation represented in the reviews. If they are considering you for a brake job, they want to see evidence that other customers have used you for a brake job and have been happy with the service. They want to better understand what the experience will be like with your shop. In fact, in the brightlocal survey 75% of consumers said they would feel positively about using a business if "The written review describes a positive experience."
Very few shops are asking for the specific thing that a majority of consumers say they want to see in reviews. You've got a huge opportunity here if you are willing to ask your customers to reference the specific service you provided to them and the experience they had. Here's a good way to do that:
"We really appreciate you choosing [Shop Name]. Our online reviews help us to bring in new customers. If you feel like you received good service, it would mean the world to us if you would review our shop on Google. If you could, please include the service we provided to you and a few details about your experience as we know others find that information especially helpful."
We encourage to use that as a starting point and personalize it for your shop. If you just take that additional 20 seconds to ask your happy customers for reviews in that way you could propel your shop to be the top choice of the 81% of consumers who are using Google to evaluate auto repair shops in your area.
Our Integrated Reviews platform helps our customers get more online reviews. To learn how we can help do that for your auto repair shop, call us at 855-294-6397 or schedule a meeting with us at a time that's convenient for you!