Upcycle Your Auto Repair Shop's Customers
April 27, 2018
Have you ever heard of upcycling?  Upcycling is a combination of recycling and upgrading – taking old items and turning them into something even more valuable or interesting than the original item.  RebornUK takes non-running sports car engines and uses them to build glass tables, for instance, and this Polish company turns vehicles into couches.
Successful shops upcycle their customers!  They work hard to upcycle their oil change and brake replacement customers into long-term, lifelong customers.  Of course, you know this isn't as easy as it sounds – most customers have no interest in becoming a reliable, long term shop customer.  The ones that do are very valuable, and every shop is looking for them.  How do you build a business around upcycling customers?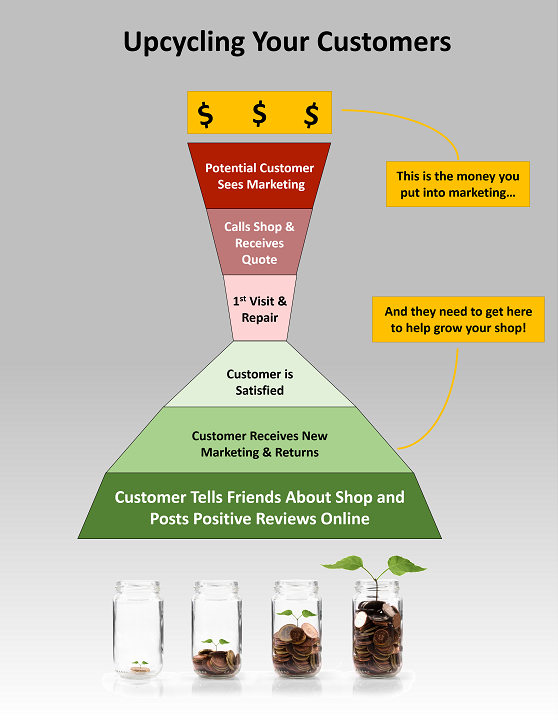 Identify High-Value Customers
When new customers come in, one of the most important things to determine is whether they have the potential to become high-value, repeat-visit customers.  This isn't because you preferentially treat them better, because even one-time oil change customers can damage your reputation if you treat them poorly.  You want to know if a first-time customer can become a high-value customer for your shop because you need to make sure you work hard to earn their trust during that first visit.
High-value customers prefer to keep their vehicle in good working condition.  They may not ask questions about what this entails, but they're going to be interested in what you have to say about it.  They value their mechanic, so they're going to want to know that you're knowledgeable, easy to work with, and appreciate them and their business.  Finally, high-value customers are interested in what's working now, but might need some attention in the future.  They have a desire for a relationship that's more than transactional, so it's important to provide that in order to satisfy them.
Re-market to High-Value Customers
You also want to make sure to continue to market to them after they leave your shop.
It's expensive to use marketing to bring a customer into your shop for the first time.  If you spend $500 on mailing out flyers, and it doesn't result in a customer who comes back again and again, it's very hard to make that money back.  The reason you spend on marketing is that you want to attract customers who you can bring back into your shop over and over again.
It's much less expensive to bring a high-value customer into your shop a second time – because you can target previous customers without marketing to thousands of people who would never even consider visiting your shop.  If you believe a customer who has visited you recently is a high-value customer, it's worth your time to give them a level of attention that sets your shop apart.
One way to do this is a personal thank-you call to follow-up and make sure they're happy with their service.  A hand-addressed letter also grabs people's attention – especially if you include a small service with no purchase required, such as a vacuum and wash.  The important thing here is to make them feel like you're telling them that their business was appreciated, not that they've been added to a marketing list.
Turn Your Fans Into Advocates
Customers who come to really trust your shop will turn into fans.  Some of them will go a step beyond this, and become advocates.
Big companies have a name for people who won't stop talking about their products: brand advocates.  They're different from "fans".  You probably have plenty of customers who are fans of their favorite car brand – but only a few of them are dedicated enough to walk in with that manufacturer's logo on their T-shirt.
If a marketing activity yields a single customer who becomes an advocate, it was worth the money.  They provide word-of-mouth referrals everywhere they go.  They give you the online five star reviews that attract people they've never even met.  Advocates of your shop take pride in providing you free advertising.
Learn who your advocates are.  If someone leaves your shop an online review, see if you can figure out who it is.  When someone comes into your shop, ask where they found you.  And most importantly, make sure you never give these people or their referrals a reason to look elsewhere for their repairs.  They've staked their own reputations on recommending your shop, and they'll continue to do so as long as it makes them look good!
To learn more about how Repair Shop Websites helps your shop attract high-value customers, call us at 866-665-1605 or email us at Team_RSW@RepairShopWebsites.com.