The short answer is yes, but there's more to it than just posting a quick response.
That's especially true if the review is negative. I'm writing this blog because we've seen a lot of unprofessional responses to negative reviews lately. Before you get mad at me for typing that, please understand that I know how frustrating it can be to see a negative review, especially when you've done everything you could to help a customer.
However, in those cases I would encourage you to consider that your response is for that potential customer who is checking your reviews to see if they want to bring their vehicle to your shop. If you respond to a negative review by tearing into the reviewer, that potential customer is likely to have a negative perception of your shop. If you respond professionally, they are going to see you as somebody who is customer focused and is willing to work through a disagreement or misunderstanding.
Before I get to the recommendations for how to respond to certain types of reviews, I want to briefly highlight why it's so important to respond to reviews. In our blog from earlier in the year – The Power of Reviews: How They Impact Auto Repair Shop Decisions – we brought forth some of the data from BrightLocal's Local Consumer Review Survey 2023. In that survey 88% of consumers said they would be likely to use a business that responds to all reviews.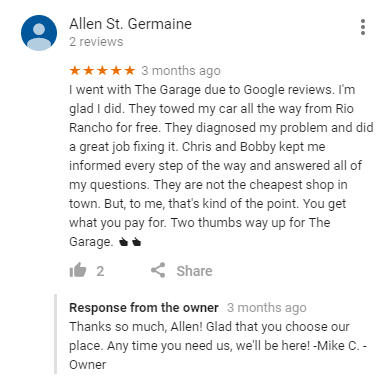 How to respond to good reviews
This is the easiest type of review to respond to and by going a step or two beyond just saying thanks, you can help your auto repair shop in a couple of different ways. A good way to do this is to mention something personal about the customer who left the review and to reference the service that you provided for them.
First and foremost, you should respond to thank them for taking the time to post a review for your shop. We all lead busy lives these days, so it's important to show appreciation to a customer who is willing to take the time to help your auto repair shop.
Second, by including something personal about the customer, you are showing that you really care about them as a customer. This helps keep the relationship with the customer strong and also shows potential customers who will be looking at the reviews how much you care about your customers.
Finally, including something about the service you provided can help your Search Engine Optimization (SEO). This can have the biggest impact on where your auto repair shop shows up in the Local Pack (the list of 3-4 businesses that appears just below or next to the map in a results page from Google) when somebody searches for that service in your area and it can also help your website search better as long as it is linked to your Google My Business profile.
How to respond to bad reviews
It can be very difficult to hold your tongue when somebody blasts you in a review, especially if you feel strongly that they are wrong. But the important point to remember is that potential customers who read the review will have no way of knowing who is right and who is wrong. If you respond in a non-professional way, you are demonstrating to potential customers that you are not professional. As unfair as that may be, that's the way it works.
Your best move is to respond very respectfully, with something along the lines of "we are sorry you feel that way about your visit to our shop." Mention something about how "we strive to provide the best service in town to all our customers." And follow that up with "I'd be happy to talk to you personally about your experience."
In a case where you know that something went wrong with their service, it's a good idea to be more apologetic. Almost all customers are forgiving and know that nobody gets it right 100% of the time. People reading the review and seeing your response will respect you more and be more likely to choose you if they see that type of response.
Responding with "our goal is 100% customer satisfaction and unfortunately we missed the mark in this instance. I'd really appreciate the opportunity to talk to you and discuss how we can make it right," is a great way to demonstrate your care for your customers in the face of a mistake.
If you catch yourself in the process of typing out an emotional, angry response, go ahead and type it all out somewhere to get it out of your system. Don't submit the review! Let it set there for at least 24 hours. If you go back to it after that period of time and still want to post it, let it sit for an additional 24 hours. After you look at it again, please delete it and think about what that potential customer who sees the review will want to see that shows you can handle these things professionally. I know it's hard but your business will be better off if you respond professionally.
How to respond to false reviews
Occasionally, we'll see a review pop up for one of our customers that is either mistaken or blatantly false. An example would be if somebody writes that they visited your auto repair shop on a Saturday but you are not open on Saturdays.
In these examples it is totally appropriate to point out that they must be mistaken. Writing something like "we are sorry you had a bad experience, but you clearly didn't go to our shop. We haven't been open on Saturday in 20 years," is a good way to address it. Asking them to remove the review because of the mistake is also totally appropriate. Feel free to encourage them to stop by your shop for a much different experience.
Leveraging reviews to help your auto repair shop
Like with almost anything, there are some nuances to how you will want to respond to any review. But, if you use the recommendations above as a guide, and remember it will not be just the person who wrote the review that reads your response but many potential customers, you can further utilize reviews as a way to help you gain more customers.
You may also want to read: Should I Ask Customers to Post Reviews for My Auto Repair Shop?
If you'd like help getting more reviews and responding to them, please contact us at 866-665-1605 or Team_RSW@RepairShopWebsites.com.