Google My Business Is Incredibly Important for Auto Repair Shops
October 20, 2017
Being found online is one of the most effective ways to increase your car count and/or to improve your ARO by attracting the right type of customers. Unfortunately, there's not just one thing you need to do to be found when potential customers search for auto repair, there's multiple things. However, one thing you definitely want to be sure you do is to claim and build out your Google My Business profile.
Google My Business is the business profile that shows up on the right side of the screen on a desktop or laptop computer when you do a search for a business. It also appears within the search results on a smartphone and on Google Maps. Here's an example: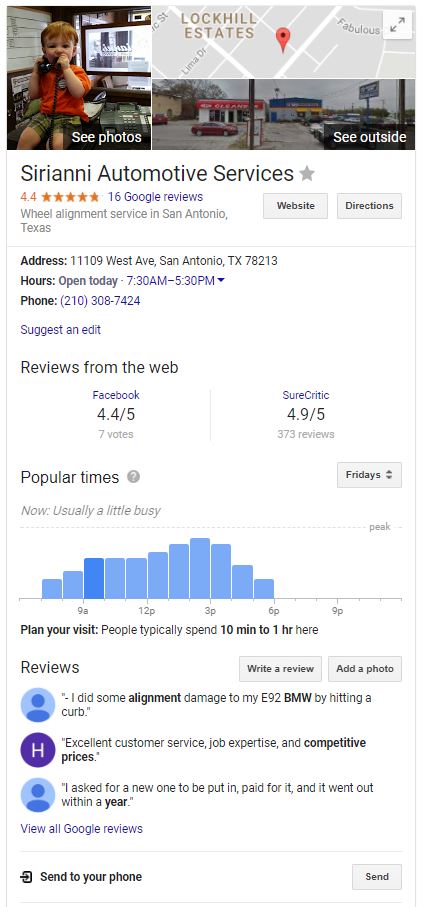 Claiming and managing your Google My Business profile is free, and it has been proven to affect your search results. Businesses with fully-completed Google My Business profiles will most often search better than their competitors that have not completed their Google My Business profiles.
So what do you need to do to maximize your profile:
If you haven't already, claim your business at https://www.google.com/business/.
Fill out as many of the fields as you can on the profile – address, hours, phone number and website are particularly important. You want to be sure they match your listings on other digital properties like Facebook and Yelp, if applicable.
Choose the category that best fits your business. If you offer all auto repair services then Auto Repair Shop is great. If you specialize in something, you may want to see if you fit in a specialized category, for example Engine Rebuilding Service or Transmission Shop. This is important because what you specifically search well for will be affected by your category.
Add as many photos as you can. And keep adding them over time. Google likes this because it shows you are an active business owner.
Encourage your customers to review your shop on Google. Those reviews will be included directly on your Google My Business profile, as you can see in the above example. Respond to those reviews. Thank those who give positive reviews. Handle negative reviews diplomatically.
If you've got time, start to use Posts. Posts are a new feature Google rolled out for Google My Business in June. You can now post something on your profile for a week. You may want to post info about a special you are having, an event you may be hosting at your store or even congratulations to a pee-wee softball team you are sponsoring that got a big win. You can access posts on your Google My Business account.
A strong Google My Business profile will help your website rise in the search rankings. It will also help you pop up in the map area when potential customers search for auto repair in your area. If you have not yet claimed your Google My Business profile, or are not using it to its fullest potential, today is the time to start.
To learn more about how Repair Shop Websites can help you increase your car count with a great searching website, call us at 1-866-665-1605 or email us at Team_RSW@RepairShopWebsites.com.